Bnos Bais Yaacov Newsletter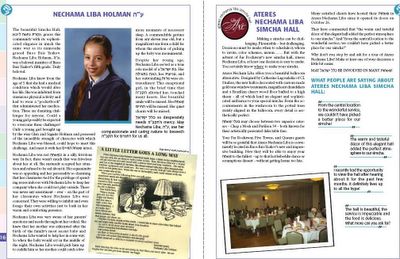 Bnos Bais Yaakov Newsletter

Above is the BBY newsletter sent last February before the annual dinner.
There is a letter about Nechama in addition to a copy of the article from the Olemeinu titled "A little letter goes a long way", which contained Nechama's letter of
Chizuk
to Rabbi Stein.There is also an article with some information regarding the hall named for Nechama Liba A"H. The story below is amazing because Nechama did it without any fanfare. She heard the baby wake up and stayed up for hours at night so as not to wake us up. She expected no reward and we only knew because she looked so tired in the morning. The text of the article below reads:
The beautiful Simcha Hall,
Ateres Nechama Liba
, graces this community with its sophisticated elegance in much the same way as its namesake graced Bnos Bais Yaakov. Nechama Liba Holman A""H was a beloved member of Bnos Bais Yaakov''s fifth grade. Truly beloved.
Nechama Liba knew from the age of 5 that she had a medical condition which would alter her life. She was inhibited from strenuous physical activity and had to wear a ""pocketbook"" that administered her medication. These are daunting challenges for anyone. Could a young girl possibly be expected to overcome these challenges? Only a young girl brought up by the wise Glen and Saguite Holman and possessed of the incredible strength of character with which Nechama Liba was blessed, could hope to meet this challenge. And meet it with her
Simchas HaChaim
intact.
Nechama Liba was not
bSimcha
in a silly, frivolous way. In fact, there wasn''t much that was frivolous about her at all. She maturely accepted her situation and refused to be sad about it. Her equanimity was so appealing and her personality so charming that her classmates vied for the privilege of spending recess indoors with Nechama Liba to keep her company when she could not play outside. There was never any resentment ,ever, on the part of her classmates where Nechama Liba was concerned. They were willing to inhibit and even forego their own activities just to bask in her warm and comforting presence.
Nechama Liba was very aware of her parents'' emotions and needs throughout her ordeal. She knew that her mother was exhausted after the birth of the family''s most recent baby and Nechama Liba wanted to help her in some way. So when the baby would cry in the middle of the night, Nechama Liba would pick him up to cuddle him so her mother could catch a few more moments of necessary sleep. A commendable gesture from any eleven year old, but a magnificent one from a child for whom the exertion of picking up the baby was monumental.
Despite her young age, Nechama Liba served as a true role model of a bas Yisroel. Her concentration during davening, her modesty, and her outstanding character traits were extraordinary. This exceptional girl, in the brief time that Hashem allotted her, touched many hearts. Her beautiful smile will be missed. Her
Simchas HaChaim
will be missed. Her quiet charm will be missed.
Clal Yisroel
so desperately needs Hashem''s mercy.
May Nechama Liba A""H, use her compassionate and caring nature to beseech
Hashem
for compassion for us all.